Structured output containing complete information that not only assesses the financial health of the company.
Reliability and professional competence report
The report checks entrepreneurs and legal persons that are authorized to offer and provide financial services (eg. financial, investment and insurance, consumer credit intermediaries).
Report consists of three blocks:
Verification of reliability and professional competence
This section contains several other subsections:
activity in LP bodies,
entry into liquidation of LP,
criminal Register LP,
administrative Sanctions at the CNB,
interruption or termination of trade business,
insolvency, Scope of business,
registration in REGIS,
professional competence registered in REGIS,
the ultimate owner.
Execution
Finding out the number of executions, if any, it is possible to find out other details (eg the amount of executions).
AML Info Check
The advantage of the service is the worldwide coverage of information sources as well as all the main lists of financial sanctions issued by regulatory authorities.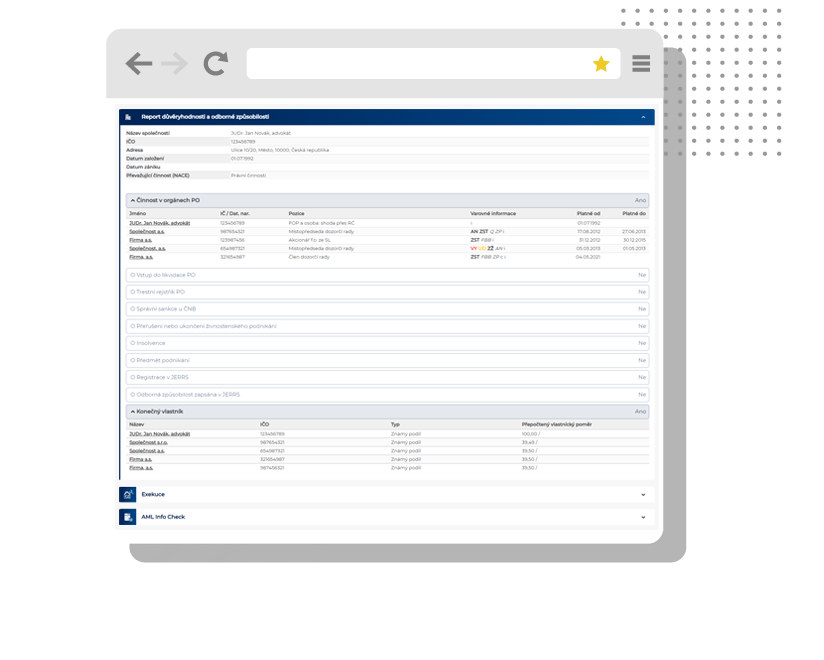 Try out Cribis
Free and without obligation for 14 days
Try it for free
---
Do you use the Cribis application and are interested in other services?
Reliability and professional competence report
Updated on 2022-04-19T16:13:51+02:00, by Adéla Homutová.